Yizhao is a professional manufacturer of high quality RS5 style FRONT GRILLEs.We would like to introduce the RS5 style FRONT GRILLEs to you.
What is the FRONT GRILLE? What is its function? All these questions can be answered from its history of development.
In fact, it is generally acknowledged that the first car in the history of mankind - "the father of automobiles" Carl Benz invented the Mercedes-Benz 1 in 1885, which is based on the body of a three-wheeled carriage. The internal combustion engine that powers it is also completely exposed. There is no need to design a special intake structure for it, grille? It does not exist.
In the short years after the advent of Benz-1, with the clearer structure of the automobile, there is a closed engine compartment. In order to meet the normal operation of the engine and provide enough air intake, the intake grille first appeared as a functional structure.
Generally speaking, there are two main functions of air entering engine compartment through intake grille in traditional fuel vehicle structure:
1. Provide enough mixture for the engine
2. Cooling the engine compartment
With the development of technology, now each manufacturer has produced its own unique FRONT GRILLEs for their cars.For example, the "double kidney" grille has become BMW's second logo.Honeycomb front grids have also become a common style in Audi,so are RS5 style FRONT GRILLEs.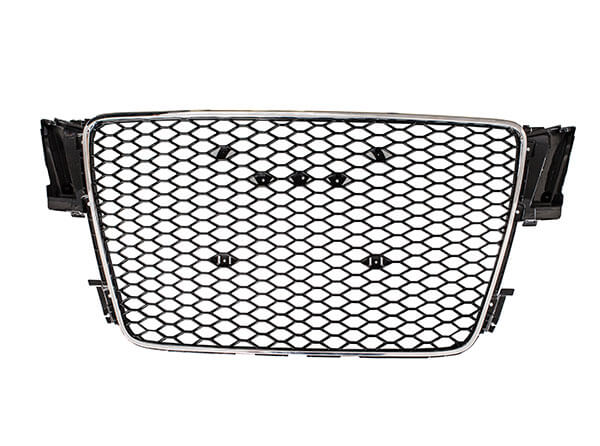 Do you have any RS5 style FRONT GRILLEs you like? Come and choose your favorite RS5 style FRONT GRILLE.